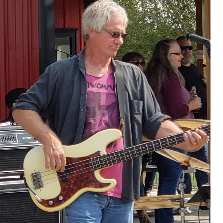 Gene Doss - LEAD GUITAR/Vocals As the founder of the band HOLD ON, has been playing guitar since he was 15 and is a master chameleon when it comes to Rock. Both on guitar, and vocally, he is one of the most versatile performers in the Midwest. Growing up to Classic Rock, he has a passion for The Beatles and their influence on Rock n' Roll, and embraces the current Rock artists, whom he incorporates into the variety of music the band selects. He DELIVERS for every audience with high energy and great enthusiasm to make each show uniquely special-- once you watch, you'll see what we mean!
Rob Godfredsen - DRUMS/Vocals Rob has been playing drums since he was 10 years old. An extremely talented and versatile drummer, he was inducted in to the Iowa Rock N' Roll Music Association Hall of Fame in 2017. Rob also has a knack for a wide variety of musical styles. While carrying on his father Al Godfredsen's legacy with his jazz band on occasion, Rob brings his awesome rythmic style to HOLD ON which is highlighted by his meticulous finish to each and every song - there is no doubt Rock runs through his veins! Rob also adds a great high-end to the vocal mix, and has a gentle touch to the ballads.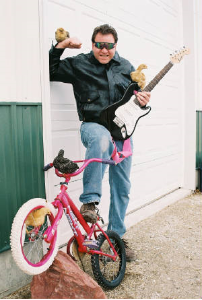 He joined The Cactus Sharks and helped form Saltwater Shake and later a spin-off band named Catiwompus which is still rocking the Gulf Coast. Rick met the members of HOLD ON 7 years ago doing a gig together in Jamaica, IA, the area where he grew up. After filling in over 6-7 years with HOLD ON, now back as an Iowa resident, Rick happily joins as our full-time bass man, bringing his vast experience and love of entertaining mojo to HOLD ON's great energy and appeal.
Rick Holmes - BASS GUITAR
Rick started playing in Iowa with the band Special Delivery. He moved to Santa Barbara, CA and played and recorded with a couple different bands, including a recording with Barry Cowsill of the family band The Cowsills. He moved to Nashville and played with Young Mr. Dean, Double Yellow and Jane His Wife which was later signed to a production deal with Chappel Warner. Rick left Nashville for the Gulf Coast playing in a variety of bands including Leesa Biddy that opened for Tracy Lawrence, Joe Diffie, Mark Collie, The Bellamy Brothers and Mark Chestnut.
LOVING THE STAGE
Sooo much more than a cover band,

H

OLD ON is a musical experience. Originating out of Des Moines, IA, they perform throughout Iowa and all across the Midwest at casinos, nightclubs, festivals, weddings, corporate engagements and many other special events. They pack the dance floor and instantly entertain with their diverse mix of Rock n' Roll from Oldies to Classic Rock to Contemporary, trading vocals and styles, they deliver classics from decades past - almost as if the songs were meant for the band. HOLD ON brings all the elements of a great live performance together, making sure everyone has a great time and the music mix is for each occasion and each crowd

.